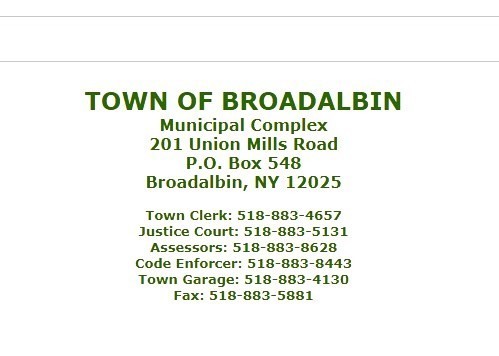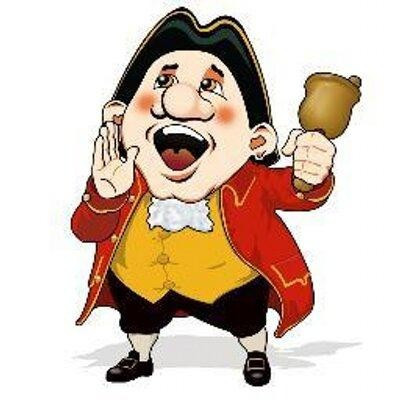 March 17, 2020---

TOWN CLERK'S OFFICE (Municipal Building) is open daily to check messages. Please call 518-883-4657 with any inquiries you may have. ALL business can be done by mail if you prefer, dog licenses etc.


As of now, State mandated, Court is closed until further notice but you may leave a message; 518-883-5131.


Assessors Office will be open by appointment only, please call 518-883-8628.


Code Enforcer can be reached 518-883-8443 with any questions you may have.


Transfer Station is running on normal hours... again any questions call the Town Clerk's Office.


Tax Collector, Linda Eastman, will be open, but requests that all payments be mailed in. Please call 518-883-8306 with any questions.


Town Historian, Steve Oare, can be reached by leaving a voice mail at 518-527-4851.
March 18, 2020---


Effective Monday, March 16, 2020, the Broadalbin Town Court has been directed to close and adjourn all pending court matters out for at least 45 days. The scheduled Court days impacted by closure as follows: Thursday, March 19th, Thursday, April 2nd., Thursday, April 16th, Thursday, April 30th, Thursday, May 7th, and Thursday, May 21st. This is subject to change per Office of Court Administration.


I have instructed the Chief Clerk and Deputy Clerk to set a schedule going forward and for at least 45 days or, until notified differently by Office of Court Administration for handling Court matters. The Clerks will work 9:00 am – 1:00 pm rotating days on Monday and Friday or more (if directed by the Judge) for the necessity of checking the mail, making bank deposits, receiving and answering phone calls, downloading tickets, time sensitive paperwork related to necessary arraignments, Orders of Protection etc. and addressing/directing all other information from the Office of Court Administration.


Arraignments related serious offenses and Orders of Protection shall be handled through normal proceedings.


I will turn in all hours worked and keep you updated as this issue remains very fluid. Please direct any questions or concerns to me at judgementday.joe@gmail.com or my cell phone number 518-542-7875. I will also be checking in the office from time to time to address any court matters of priority.


~Sheila Perry, Town Supervisor
May 16, 2020---


A SPECIAL MEETING OF THE TOWN OF BROADALBIN TOWN BOARD FOR THE SOLE PURPOSE OF OPENING SEALED BIDS FOR THE PAVING OF CERTAIN ROADS IN THE TOWN AND APPROVING PAYMENT OF APRIL 2020 CLAIMS WILL BE HELD AT THE MAIN ENTRANCE TO THE MUNICIPAL BUILDING, 201 UNION MILLS ROAD, BROADALBIN, NEW YORK ON TUESDAY, MAY 19, 2020 AT 1:00 P.M.
DUE TO COVID-19 RESTRICTIONS, THE PUBLIC IS ADVISED THAT SOCIAL DISTANCING GUIDELINES AND THE WEARING OF FACIAL COVERINGS WILL BE REQUIRED.